Archive | February 2016
I'll leave commentary on the overall ceremony to people more skilled at that sort of thing. Here's a breakdown of the winners vs. my predix:
Best Visual Effects
Prediction: The Revenant
Winner: Ex Machina
A winner I love more and more the more I think about it. I thought the Academy would be wowed by the bear attack scene in The Revenant. I certainly didn't they'd go for the least showy nominee, a film with a $15 million budget. But Ex Machina is the sort of winner I wish this category went for more: a film that used special effects beautifully, so that by the midpoint of the film I completely bought Alicia Vikander as an android. A worthy, out of left-field winner.
Best Film Editing:
Prediction: Mad Max: Fury Road
Winner: Mad Max: Fury Road
Not much to say here. This usually goes to a Best Picture winner nominee and/or the most obviously edited movie. Those two also happened to be the best edited film of the bunch. Maintaining narrative momentum with so little exposition or time to breathe as Margaret Sixel did with this film was a herculean task.
Best Costume Design:
Prediction: Carol
Winner: Mad Max: Fury Road
A bit of a hopediction here: I hated the idea of Carol, my choice for the best film of 2015, going home emptyhanded. And Sandy Powell is a three-time winner who was nominated twice tonight (also for Cinderella). But Mad Max was always going to dominate the visual and technical categories and this was no exception.
Best Makeup and Hairstyling:
Prediction: Mad Max: Fury Road
Winner: Mad Max: Fury Road
See above.
Best Cinematography:
Prediction: The Revenant
Winner: The Revenant
Emmanuel Lubezki is now a living legend among cinematographers, and this is his third straight Oscar win. I don't think he really deserved it for this film, which is painterly and often beautiful but lacks a signature visual epiphany like his work with Alfonso Cuaron and Terrence Malick, or even Birdman are chock full of.
Best Production Design:
Prediction: Mad Max: Fury Road
Winner: Mad Max: Fury Road
Functionally, this was the place to honor the man, the myth, the legend of The Doof Warrior and his tower of speakers and flamethrowing guitars. One more time: give it up for the Doof Warrior
Best Sound Mixing:
Prediction: Mad Max: Fury Road
Winner: Mad Max: Fury Road
Do you think the Oscar voters put a lot of thought into this one? Let's be honest here. The Doof Warrior wasn't losing any category with sound involved.
Best Sound Editing:
Prediction: Mad Max: Fury Road
Winner: Mad Max: Fury Road
By my count, The Doof Warrior won three Oscars tonight. All is right with the world.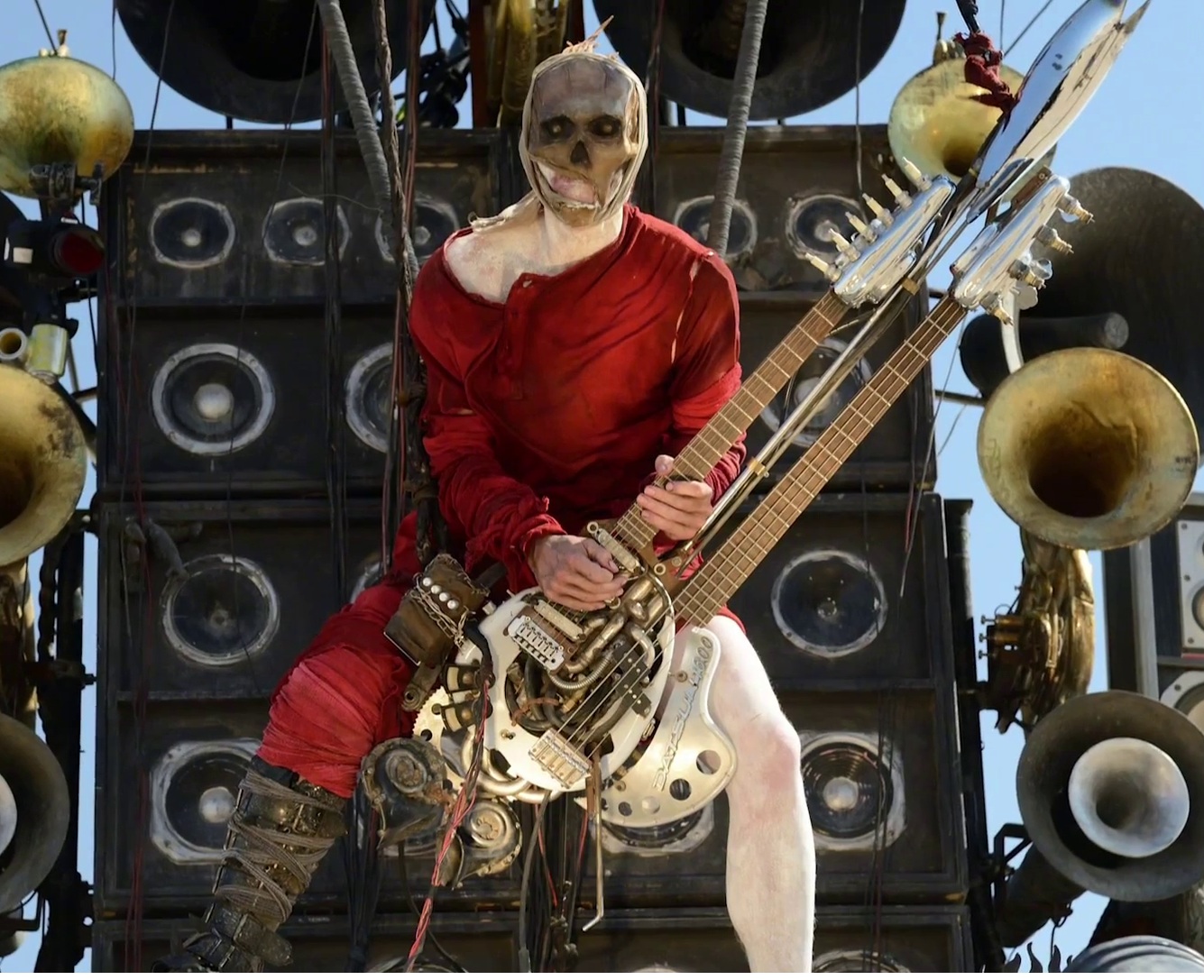 Best Original Song:
Prediction: "Til it Happens to You", from The Hunting Ground, Lady Gaga and Diane Warren
Winner: Some mediocre song by a gentle british man
I don't want to linger on this. The Bond tune was so forgettable. "Til it Happens to You" was a better choice and Lady Gaga's performance was signature Oscar moment stuff. But Sam Smith seems like a sweet person and I can't begrudge him.
Best Original Score:
Prediction: Ennio Morricone, The Hateful Eight
Winner: Ennio Morricone, The Hateful Eight
I can't imagine the Oscars were going to let an 87 year old legend go home emptyhanded. It's also a deserving work, and I couldn't be happier, even though I think Carter Burwell's simple, haunting work in Carol was the best nominee.
Best Animated Short:
Prediction: World of Tomorrow
Winner: A Bear Story
I haven't seen the nominees and was predicting based on some reviews of World of Tomorrow by some critics I follow. A little passion can go a long way in this category and it was the best I could do other than shooting blind.
Best Live Action Short:
Prediction: Ave Maria
Winner: Stutterer
Shot blind. Missed.
Best Documentary Short:
Prediction: A Girl in the River: The Price of Forgiveness
Winner: A Girl in the River: The Price of Forgiveness
I admit, I predict this category every year based on the title. This isn't to be cynical or snarky, and this seems like a genuinely important work. It's just that when making predictions, this category veers towards harrowing human interest films. Knowing nothing else about the films, I guess from the titles. It often works.
Best Documentary Feature:
Prediction: Amy
Winner: Amy
It's the only nominee I've seen, and I loved it. But I picked it because it's got the biggest footprint of any of the nominees, a potent combination of critical acclaim and surprisingly good box office that often carries winners in this category.
Best Foreign Language Film:
Prediction: Son of Saul
Winner: Son of Saul
Has this category gotten too predictable? I haven't seen any of the nominees but Son of Saul seemed like a forgone conclusion.
Best Animated Feature:
Prediction: Inside Out
Winner: Inside Out
Speaking of forgone conclusions… look. I'm not going to rag on this funny and sweet and deeply empathetic film. Inside Out is a wonderful movie. But Pixar has eight wins in this category, as many as all other studios combined. Combine Disney and Pixar into one entity (not unfair, they both belong to the Walt Disney Company) and you have 10 out of the last 13 winners. The nomination committee for this category does a fantastic job highlighting quality animation from around the world. Almost every year provides a surprise nominee, or two, or even three. But the only time the Academy at large has ever surprised us to any degree with a winner was when Spirited Away won, 14 years ago. I might write more about this later, but as much as I loved Inside Out, I don't think this category is doing a good job of celebrating animation as the wonderful art form that it is.
Best Adapted Screenplay:
Prediction: Adam McKay and Charles Randolph, The Big Short
Winner: Adam McKay and Charles Randolph, The Big Short
Easily the worst nominee in a strong category. Yes, it's an informative film that manages to educate us on a potentially stultifying topic, but as a story it's uneven and doesn't provide a single fully-formed character. Not to mention: as the Oscar clip for this category showed, it has a character named "Wife". Seriously?? Carol, Brooklyn, Room, and The Martian all had much richer scripts. But this wasn't hard to predict. The Big Short has got snappy dialogue and had emerged as enough of a front-runner that the Academy was going to want to reward it somewhere.
Best Original Screenplay:
Prediction: Tom McCarthy and Josh Singer, Spotlight
Winner: Tom McCarthy and Josh Singer, Spotlight
Well, I thought this was going to be a compensatory award for a Best Picture nominee that would otherwise have gone home empty-handed, like The Big Short. Not quite.
Best Supporting Actress:
Prediction: Alicia Vikander, The Danish Girl
Winner: Alicia Vikander, The Danish Girl
A few months ago, the New York Times wrote a profile about Vikander having "a moment". The Oscars love to put a wax seal on young actresses having their moments. Vikander is talented. She was also good in the underrated The Man from U.N.C.L.E. and she could easily have won this award for Ex Machina. She had a hell of a year.
Best Supporting Actor:
Prediction: Sylvester Stallone, Creed
Winner: Mark Rylance, Bridge of Spies
Look. Mark Rylance is fantastic in Bridge of Spies. This is very much a worthy award for tremendously accomplished actor, a three-time Tony winner who acts in gentle tones and slight shifts of his eyes. Rylance does whatever the opposite of scenery chewing is and now he has an Oscar. That's inherently cool. But man, I'd have loved it if Sly won. I thought the Academy would too. He would have deserved it just as much. But I can't fault them for awarding Rylance.
Best Actress:
Prediction: Brie Larson, Room
Winner: Brie Larson, Room
No surprises here. Larson is virtuosic in Room. She dominated the awards circuit this year. A completely deserving win, one that was easy to predict.
Best Actor:
Prediction: Leonardo DiCaprio, The Revenant
Winner: Leonardo DiCaprio, The Revenant
I'm not as bullish about DiCaprio's win as I am about Larson's, but he was just as easy to predict. And really, I can't help but be happy for the guy, even if the cries about how overdue he was for a win seem a bit odd when he's only 41. Still, he gets points for effort for a performance in which he gave it everything. I think Matt Damon's performance in The Martian was better, however.
Best Director:
Prediction: Alejandro G. Iñárritu, The Revenant
Winner: Alejandro G. Iñárritu, The Revenant
Man, awards-givers love them some Iñárritu. In winning back-to-back Best Director Oscars he joins a club that previously had only featured John Ford and Joseph L. Mankiewicz as members. Ford won his in 1940 and 1941 for The Grapes of Wrath (one of the greatest of all films) and How Green Was My Valley (a masterpiece unfairly maligned for beating another masterpiece, Citizen Kane, for Best Picture that year). Mankiewicz won his in 1949 and 1950 for A Letter to Three Wives and All About Eve. I don't think Birdman or The Revenant come anywhere close to those films, but then I can understand why Iñárritu's films work for others even if they don't for me. I find his films too emotionally distant for all their technical accomplishment, but his films are visually dazzling and do leave room for his actors to do the heavy lifting. It doesn't do much for me, but I clearly does for a lot of others people.
Best Picture:
Prediction: The Revenant
Winner: Spotlight
It feels odd that a film with a 93 Metacritic rating that won for Best Screenplay is an upset winner, but here we are. In a field of splashy, big-feeling frontrunners, Spotlight felt stripped down and lean. It didn't have to try to feel important: it let its story play out realistically and without the sort of artificial plot escalation we've come to expect from films gunning for awards. It's carried by a magnificent cast, none of whom won any awards but who would have been a shoo-in to win an ensemble award. I wish I'd seen it coming. I thought the combined love for DiCaprio and Iñárritu, coupled with the sort of box office success reminiscent of the days of populist Best Picture winners, made The Revenant an obvious choice. I was wrong: there's something quietly unforgettable about Spotlight. It shook me when I saw it, and I have no doubt it had the same effect on Oscar voters.